Advancing Navy Medicine in Contracting and in Uniform: Lt. Brian Williams Shares His Journey Through Military Medical Research
US Navy | 2022-10-06
SILVER SPRING, MD.: Every service member charts a unique course through their military career, and Lt. Brian Williams is no exception. Having begun work at Naval Medical Research Center (NMRC) as a contractor, Williams made the unusual transition from contractor to officer in the United States Navy.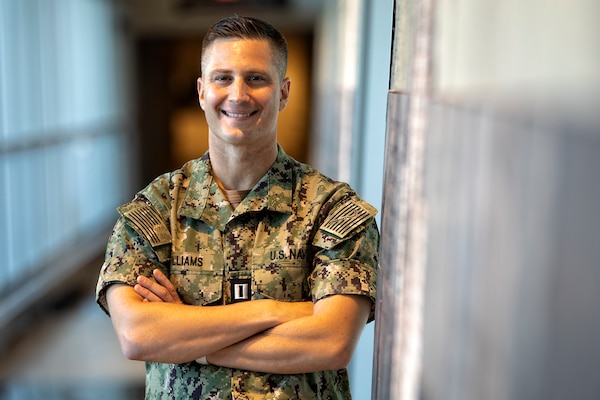 This move was a pivotal shift for Williams' burgeoning career in military medical research. Before joining the military or NMRC, Williams cultivated a body of experience in medical science. A native of Endicott, New York, he attended college at the State University of New York at Buffalo. After earning a bachelor's degree in biomedical science and a master's degree in exercise science, he obtained a doctorate in physiology and biophysics. Williams also taught as an adjunct professor for graduate, undergraduate, and medical school postbaccalaureate programs.
The opportunity to work at NMRC presented itself in the fall of 2017, while Williams was seeking a postdoctoral fellowship. Eager to get his foot in the door with military research, Williams left his teaching position at Buffalo and came to Silver Spring, Maryland to begin work at NMRC's Operational and Undersea Medicine Directorate (OUMD). There, he researched a range of areas salient to undersea medicine, including decompression sickness, disabled submarine rescue, and mountain warfare associated hypoxia.

At the time, Williams was working as a contractor for the Henry M. Jackson Foundation for the Advancement of Military Medicine. He wanted to take an additional step into the world of military medical research.

"I worked with a few NMRC research physiologists – [Lt.] Geoffrey Ciarlone and [Lt. Cmdr.] Joshua Swift. Both were outstanding mentors in an already a great research community," said Williams. "I saw the impact their work had, and I thought: That's exactly the job I want to be doing, and the sort of people I want to work with."

In early 2019, Williams submitted a package in hopes of commissioning as a naval officer and research physiologist. Once accepted, he entered the Navy's Medical Service Corps as a lieutenant and left in September of the same year to attend a five-week course at Officer Training Command, Newport, Rhode Island.

Williams cites his father, a Vietnam War veteran and Navy reservist, as one inspiration for joining the Navy.

"I come from a long lineage of U.S. military service going back 80 years; to include grandparents, uncles and my father. Growing up I saw my father serving in the Navy and I knew if I ever had the opportunity, that would be my branch of choice."

Following training, Williams' career came full circle when he returned to NMRC to continue work with OUMD, this time in uniform.

"It's pretty unique," Williams said, regarding his return. "I've met many individuals at NMRC who were prior military, separated or retired, and then came back to NMRC to work as a civilian; I feel like I'm one of the only people I know who did the opposite: left a contractor, and came back as military."

Williams found work at NMRC as a naval officer to be an almost completely different job than it had been as a contractor. In addition to the expectations of his research work, he now bore the responsibilities that come with serving.

"As a [research] contractor, you're a scientists first and foremost," recalled Williams. "Coming back in uniform, you're a naval officer first. Your secondary work is exactly that, secondary. You're expected and required to be an outstanding scientist, and now you have multiple additional responsibilities and tasks on a daily basis."

Active-duty status came with opportunities for immersion into the undersea environment. In 2021, Williams went underway aboard the Ohio-class ballistic missile submarine USS Alaska (SSBN 732), to gain first-hand experience.

"Seeing how the work we do could affect the warfighter put a very different perspective on our research mission. 99% of the time our work goes to affect another fellow service member, and there's always the possibility that at some point the work and research you do may affect you. It puts a face and a new perspective on the work."

In March of 2020, much of the country shut down in response to the COVID-19 pandemic. NMRC's mission grew and alongside fellow research personnel, Williams assisted the command's Naval Infectious Diseases Diagnostic Laboratory in testing of COVID-19 samples, work that continued for several months.

"This was one of my first opportunities to see the difference between being a civilian scientist versus a uniformed scientist; the mission changed, priorities shifted. It really enhanced my perspective that your job as a naval officer is to meet the mission, whatever that mission might be, and no matter how often that mission changes."

For Williams, these changes in focus are all still part of the greater pursuit of medical research. As deputy department head for undersea medicine at OUMD, he has had the opportunity to research the unique medical needs of the Navy's undersea warfighters, to include undersea divers and submarine crew members.

Williams is departing NMRC this fall to serve as deputy department head for biomedical research of the Navy Experimental Diving Unit in Panama City Beach, Florida.

"I'm looking forward to the new and challenging environment. It's an operational command, so a bit different from NMRC and a great opportunity to come into a department as part of leadership."

While NMRC will miss having Williams on staff, his contributions to NMRC have been a great credit to him, and to Navy Medicine at large. Williams himself expressed excitement at the future accomplishments OUMD has ahead of it.
NMRC is engaged in a broad spectrum of activity from basic science in the laboratory to field studies in austere and remote areas of the world to investigations in operational environments. In support of the Navy, Marine Corps, and joint U.S. warfighters, researchers study infectious diseases, biological warfare detection and defense, combat casualty care, environmental health concerns, aerospace and undersea medicine, medical modeling, simulation, operational mission support, epidemiology, and behavioral sciences.
Topic Categories
Military Medicine 101
Applying + What to Expect
Education + Training
Careers + Lifestyle