description:
At the end of the day, John hosts a tactical medical training exercise on his farm. Teams of emergency medicine residents get together to simulate a hostage situation in which an officer is shot while trying to make a rescue. The training is focused on medical care in the field vs. medical care in the hospital.
image: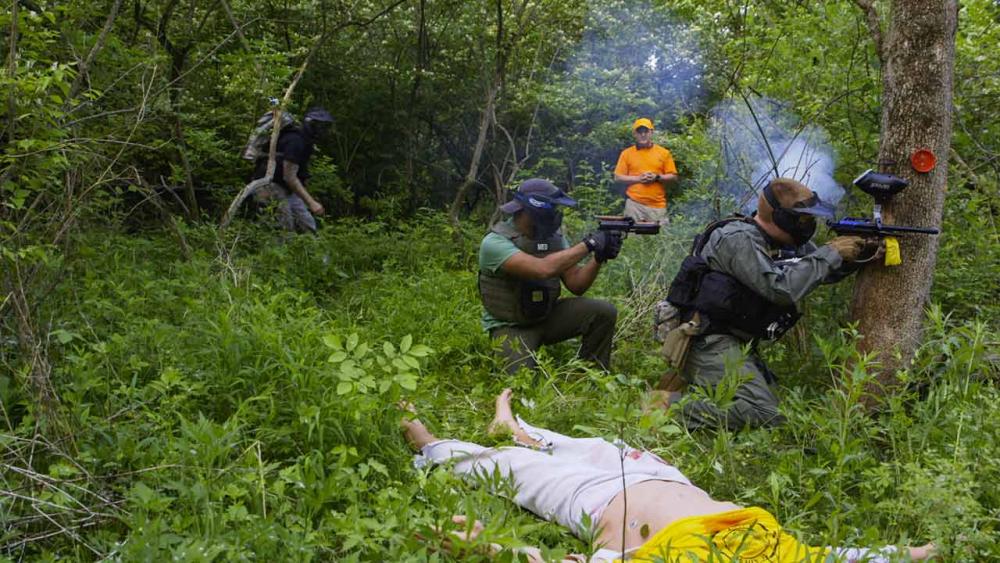 transcript:
TRENTINI: One of the things that this residency program has, one of the components of it that's pretty unique, I think, is the tactical medicine program that we have that allows especially the military residents to at least keep a feel in terms of tactical field care. It allows you to keep your skills honed and keep your skills sharp. You know, when we're here in the emergency department, we have all of our tools, I've got a respiratory therapist, I've got nurses, I've got technicians — well, when you're out at a house serving a warrant and a police officer gets shot and you've got to go in and provide point of care — point of field care, you've got to carry everything that you have with you. So we want guys practicing their skills with kind of limited resources. Welcome to our semiannual skills verification training. So you guys are all active members of the tactical residents' interests group. You all have team assignments. You've all been out on operations and training. This is a chance for us to kind of practice our skills and polish up what you norm — what you know, and work under a little bit of stress. I'm going to be out in the woods, and Dr. Springer's going to be out in the woods as well. We're going to have orange vests on. That means we are not in play. We are facilitating the exercise. So when you get out there and you see a casualty that you've got to attend to, and you say "Is he breathing?" — it's going to be Moose, OK, so it's going to be the mannequin — so you're going to go and assess him, and you're going to say, "OK, I'm assessing is he breathing?" And I'm going to tell you, "He's breathing, he's not breathing," OK? And then based on what I tell you, do what you need to do.
MALE: We need a medic.
TRENTINI: Medic. Yeah, breath sounds, he's unconscious, he's bleeding in his right arm and his right thigh. What else do you have? What else could you bind that thigh with?
MALE 1: Thigh wound is up at the groin.
MALE 2: I gotta pack in.
MALE 1: There you go, now you're getting it.
TRENTINI: The bleeding is starting to slow down now. So go, go, go, go, go. Get him out of there, guys, get him out of there. Get him into the trail. Let me know when you guys have the airway secure and IV access.
MALE 1: He's got a second chest wound as well.
TRENTINI: Doc, you ready to move?
MALE 2: Supracranial bleeding?
MALE 1: Alrighty, go.
TRENTINI: Let's get to the hospital now. All right, guys, end exercise. Good job. So Mike, you had a nice low crawl in, and then Doug finally got his butt down and you got out to him, and, you know, your goal is just to get him, get him out of there. Just drag him out, do whatever it takes, just drag them out of there. And best-case scenario, there would just be peppering, peppering, peppering, peppering, you're dragging, dragging and dragging to cover. So — so that was good. And then you guys just kind of — you kind of just scooped and ran. You threw a tourniquet on and you ran. I had a hard time catching up with you — you guys were really fast. So that was good. Let's take a break, and we'll set up another scenario. So get your headlamps and get everything you need for nighttime operations, OK? Any questions? Alright. Break.
doctor:
John Trentini, M.D., Ph.D.
Redirecting your request...
Topic Categories
Military Medicine 101
Applying + What to Expect
Education + Training
Careers + Lifestyle