Job:
Field Surgeon, Army National Guard
Description:
Sara Burdash, M.D., lives in Minneapolis, Minn. and has a full-time civilian job as an emergency medicine physician. She is also a part-time field surgeon in the Army National Guard and attends military training one weekend a month and two weeks a year.
Image: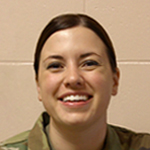 Redirecting your request...