Medical Service Corps: 106 years of diverse health service
US Army | 2023-06-26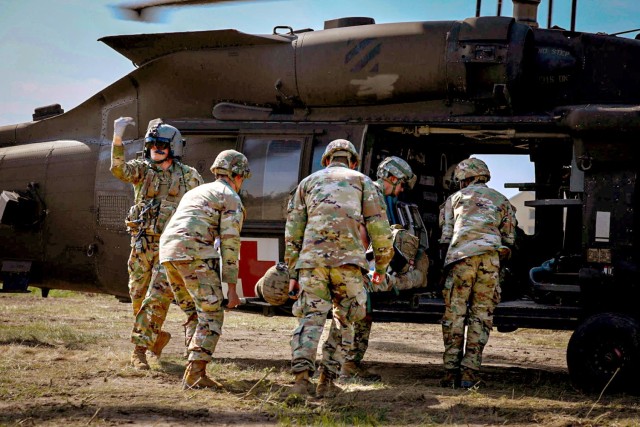 WASHINGTON: Whether in everyday patient care, clinical research or by performing the administrative tasks needed to run Army hospitals, Medical Service Corps officers have provided health care to veterans, Soldiers and their families for 106 years.
The corps is home to a diverse collection of Soldiers in more than 20 specialties, including behavioral health, laboratory sciences, preventative medicine, administrative health services, aeromedical evacuation, pharmacy, optometry, podiatry and health service maintenance.
"We are kind of the connective tissue of Army medicine in a lot of ways," said Maj. Bryan Spear, a health care administrator currently serving as the deputy secretary for the general staff of the Office of the Surgeon General. "At one point, we are doing the strategy and implementation of day-to-day operations, and at another point, we're on the front lines of research and patient care."
U.S. Army Medical Command features six medical officer corps: Army Medical Corps, Medical Specialist Corps, Veterinary Corps, Army Nurse Corps, Army Dental Corps and the Medical Service Corps.
The service corps' roots date back to the Civil War with an ambulance corps and medical storekeepers and then to World War I when the Army established a Sanitary Corps to relieve physicians of some administrative and scientific duties. That is where the Medical Service Corps gets its birthdate of June 30, 1917.
Then in 1947, Congress joined the Sanitary Corps with the Pharmacy Corps and Medical Administrative Corps to form the service corps.
Now more than 8,000 National Guard, reserve and active-duty Soldiers support Army medicine on the battlefield and on garrisons as MSC officers.
"The people in this career field are special," said retired Maj. Gen. David Rubenstein, 16th chief of the Medical Service Corps. "The drive that keeps Medical Service Corps Soldiers going, I believe, is the drive of wanting to ensure we provide the very best health care possible to our Soldiers and their families from pre-birth through the end of life. Some do that as clinicians, some as scientists and about half the corps as non-clinical administrators, planners and policy developers."
With such a wide range of jobs in the corps, many of them differ in their career paths.
The scientists and officers caring for patients usually serve in their respective fields as they take on increased levels of responsibility as their careers progress.
The medical evacuation pilots must gain experience in aviation and Army Medical Department operations. They will generally stay in aviation for up to eight years before transitioning to an administrative position.
Administrative health service officers typically start in operational units performing several roles before selecting a specialized administrative field. This path can include institutional training and advanced civilian education.
That's exactly what happened to Spear. After entering service as a medical planner, he was assigned as a medical operations officer for the 101st Airborne Division. He deployed twice to Afghanistan before being selected as a health care administrator.
That allowed him to attend the Army-Baylor University graduate program, where he received his joint master's degree in health care administration and business administration.
"That opportunity to learn while on active duty for two years with a residency was phenomenal," he said. "If you think about the opportunities [this career field has] given me, it's more than I could have ever imagined. I cannot encourage people enough to join the Medical Service Corps."
Medical Service Corps officers are often called into action in times of crisis. During the COVID-19 pandemic, they deployed to support the Javits Center temporary hospital in New York City and to other locations throughout the country. Army MedEvac pilots supported the Ebola outbreak response in Africa last decade.
"There is unlikely to be a major event that the Army, from a medical position, will take part of that you won't find a Medical Service Corps officer right there in the fight," Spear explained.
Over the past 20 years, as the Army has shifted from counterinsurgency operations in Iraq and Afghanistan toward large-scale operations in the battlefield of tomorrow, Army medicine and the Medical Service Crops has continued to adapt as they provide patient care to veterans, Soldiers and their families.
"We are going to be able to address the future challenges because we have dealt with the unknowns before, and we have navigated that very well," Spear said. "That is all because of what makes us unique, which is our competence, our expertise and our professionalism in each one of the respective areas that we represent inside of the Medical Service Corps. [The corps'] strength lies in its diversity."
If you're interested in joining the Army as a Medical Service Corps officer, visit GoArmy.com for more information.
Topic Categories
Military Medicine 101
Applying + What to Expect
Education + Training
Careers + Lifestyle