Flying as a family: 934th Aeromedical Evacuation Squadron bond helps save lives in the sky
US Air Force Medicine | 2023-04-25
ST.CROIX, U.S. VIRGIN ISLANDS: For Airmen of the 934th Aeromedical Evacuation Squadron, time in the air isn't just for training - it's time spent with family.
Maintaining and growing a close bond was an unspoken but critical objective for the 22 Airmen from the 934th AES who participated in a three-day training exercise at St. Croix, U.S. Virgin Islands, beginning March 24 and ending March 26, 2023.
During the approximately 11 hours of flight time, the group of Airmen simulated pick up, transport and treatment of patients with notional afflictions varying from malaria to wound swelling to seizures.
Treating patients with limited resources while on a moving aircraft requires trust and communication. However, with the 934th AES coming together once or twice a month to train, often on multiple-day missions to distant locations, the Airmen are used to looking out for each other.
"These are people you work with so closely that you get to know each other, and you can rely on them," said Tech. Sgt. Karisa Blighton, a 934th AES health services administration specialist.
The sense of trust doesn't stop once the aircraft has landed and the duty day is over, especially when the Airmen visit distant or remote locations.
"Being in an unfamiliar place - they're kind of like a safe space," Blighton said. "We travel together; we don't go out in onesies-twosies. It's either a group or none."
These inclusivity efforts are noticed by junior Airmen.
"As far as leadership goes, we're really blessed with who we have working with us right now," said Airman 1st Class Amelia Gapp, a 934th AES flight medical technician. "Being on this island together, they're not leaving anybody back. We were doing everything together, going to the beach, whatever it was, they made sure everyone was included."
The bonding from training can help members prepare for deployments where they have no choice but to rely on each other to help keep patients alive.
"It teaches them how to work well together, so by the time they are ready to deploy out, it's second nature to them," Blighton said. "We leave out as crews, and that five-to-ten-person crew becomes your family."
Senior Airman Nancy Poole, a 934th AES medical logistics technician, felt this bond when she deployed to Djibouti in 2021, even though she didn't deploy with her fellow 934 AES members.
"Being a first-time deployer, there were a lot of attachments from my home unit who were reaching out to me, asking if I was okay, if I needed anything," said Poole. "It shows the closeness of people, because they didn't have to do that."
This bond is so strong that a significant, sometimes unexpected, readjustment period can occur after returning home.
"You spend four-to-six months with the same five people, and you come home and you miss those people, and you have to readjust because you're so used to them being around you all the time," Blighton said. "They become embedded inside you; it's like you all share the same DNA."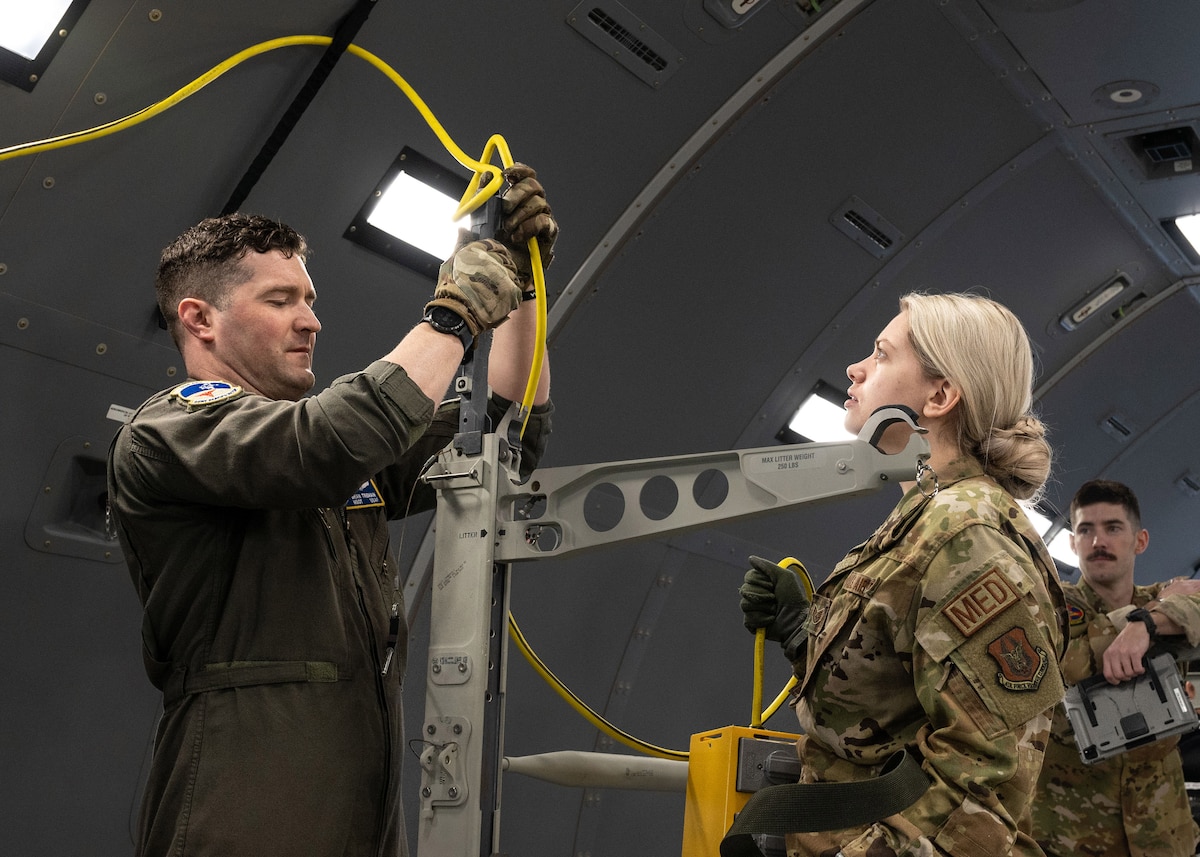 Between the intense and extensive training time in the air and on land and the passion for their job and overarching mission, it's difficult for other units to replicate the tightknit community of the 934th AES.
"It helps that it's such a small unit," said Gapp. "A lot of other places have a lot more people, so it's harder to have those close relationships, those tight bonds with other people."
The close community within the unit is also evident in the low turnover rates of AES Airmen. "When they come here, they just stay here for years and years, so the bond only grows," said Blighton.
For Gapp and Airman 1st Class Emily Leisenheimer, a 934th AES flight medical technician, this exercise was the first taste of training with the 934th AES. Despite being newcomers, both Airmen could see the shared bonds and inclusivity within the team.
"It's not just a team; it's more like a family," said Gapp. "It's personable but still very professional."
The connection between the Airmen was hard to miss, primarily through the headsets the group used while in flight to communicate with each other. While running through patient scenarios, all discussion was strictly business, but conversation kept flowing even during breaks in training, with jokes, sports scores and dinner plans being communicated in equal measure.
Despite being newer additions to the team, Gapp and Leisenheimer both felt they were given plenty of opportunity to get involved in both the training and the camaraderie.
"They're so inclusive of the new people who haven't had these experiences before," said Gapp. "They're very sure to include everybody and make sure everybody has a role, not just while we're working but also outside of that."
Airmen received live feedback during the flight as they carried out simulated patient treatment techniques. Flight leadership made sure everyone was able to be involved and engaged.
"There's always constructive criticism, but nobody ever crosses the line," said Gapp. "They make sure everybody has a part, and they're great about staying on top of that and making sure that you're actually learning something every time we have training."
"I haven't always known exactly what to do or where to go," said Leisenheimer. "Leadership is always really good at directing me where to be, and my peers have been incredibly helpful too."
Throughout the exercise, Gapp marveled at the team's ability to be taught constantly.
"They definitely have a very solid foundation, and I think you can tell by seeing the way they work together," she said. "I feel like every time I do anything with them, I'm learning something really helpful."
"Not only do I get to see what will be expected of me, but I also get to see what a cohesive group of people it is," said Leisenheimer. "Everybody gets along so well, everybody is incredibly helpful, it's a really great group to be a part of."
Topic Categories
Military Medicine 101
Applying + What to Expect
Education + Training
Careers + Lifestyle