Job:
Orthopaedic Oncologist, Navy
Location:
Naval Medical Research Center
Description:
Navy Commander Jonathan Forsberg, M.D., Ph.D., is an orthopaedic oncologist who heads the regenerative medicine department at the Naval Medical Research Center (NMRC) in Bethesda, Md. When he's not making breakthroughs in medicine, Jonathan enjoys spending time with his family, and sails competitively with his family and friends.
Image: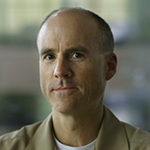 Redirecting your request...