Job:
Emergency Medicine Resident, Air Force
Location:
Wright-Patterson Air Force Base
Description:
Air Force Major John Trentini is training as an emergency medicine resident at Good Samaritan Hospital in Dayton, Ohio. As part of his residency, he also participates in nanoparticle research at the Kettering Medical Center. When he's not working, John tends to several animals on his 10-acre farm.
Image: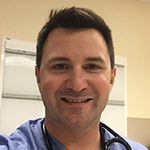 Redirecting your request...