description:
Jonathan loves the technical and physical challenge of sailing and says it's a nice distraction from the stresses of work. He and his wife compete as a team in a weekly regatta at the Annapolis Yacht Club.
image: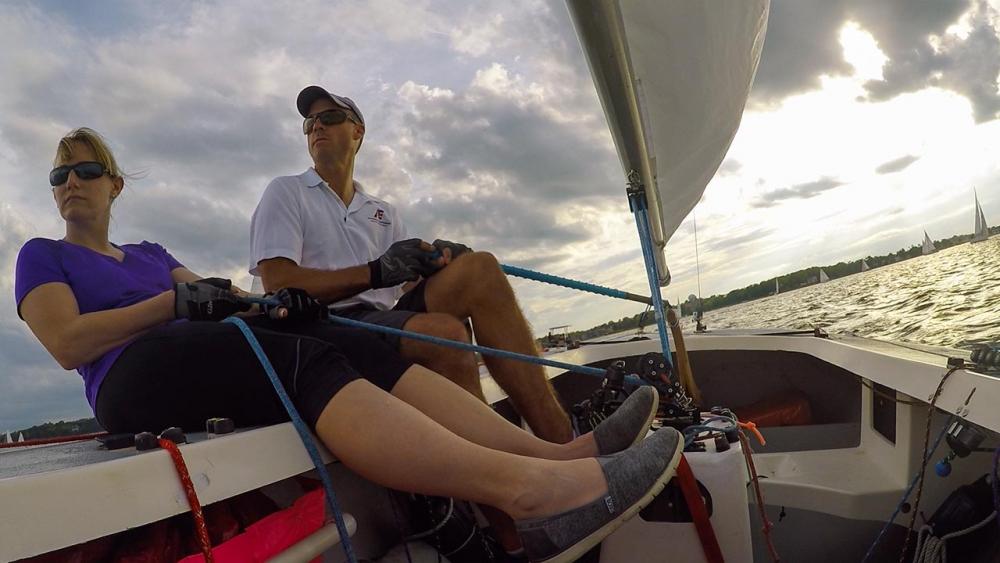 transcript:
FEMALE: Thinking about the wind tonight, with the storms coming.
FORSBERG: Yup.
FEMALE: So the question is, if the storms go north of here, if we're going to have any wind or if we're going to have a lot.
FORSBERG: Do we have Lexi and Imre?
FEMALE: We do.
FORSBERG: OK, great.
FEMALE: So we're good on —
FORSBERG: I think we're going to go to the north, so I think there's going to be a breeze.
We've been doing Wednesday night races for about six years now. A lot of camaraderie in the fleet. It's like therapy. You get out on the water, you forget about the stresses of the week, you relax, you're with your friends, competing against world-class sailors — it really is a nice distraction from the stresses of work. I love it. Love the challenge. It's technically demanding, physically demanding. We live in a perfect place to sail — Annapolis is the sailing capital of the East Coast, although Newport's a close second.
Yeah, it didn't go as well as expected, but that's sailboat race, and we got caught on the wrong side of the course when the breeze filled in. But I felt like our boat speed was good, tactics were decent, but, you know, we sail against a bunch of great sailors. You know, they're master's champions, they're North American champions, so I think we did well. Yeah, we had a really good time, and that's the whole point. You know, we come out here to blow off steam and to sail with our friends and family.
doctor:
Jonathan Forsberg, M.D., Ph.D.
Redirecting your request...
Topic Categories
Military Medicine 101
Applying + What to Expect
Education + Training
Careers + Lifestyle