description:
After spending the morning at Walter Reed and seeing patients at the National Institutes of Health (NIH), Jonathan travels to the Navy Medical Research Center (NMRC). He is head of the regenerative medicine department and leads a team of investigators who work to develop treatments to stop the spread of tumor growth in amputees suffering from blast injuries.
image: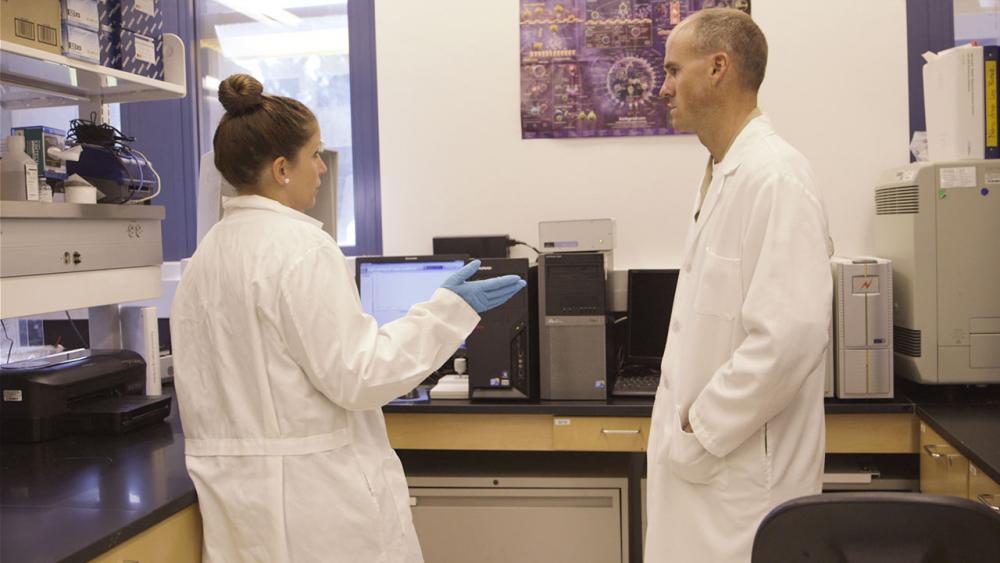 transcript:
FORSBERG: After finishing up at Walter Reed and attending morning rounds, I go to the Naval Medical Research Center to touch base with the basic science team. And they're engaged in pre-clinical research, benchtop research, if you will. So I'll meet with them and go over the projects and make sure everything's on track.
I serve as department head for the Naval Medical Research Center's regenerative medicine department. So we focus on complications like heterotopic ossification, which is the formation of bone in soft tissues. We focus on wound healing, and we also focus on improving the lives of patients with amputations.
So let's go take a look at the lab. One of the experiments that's ongoing right now is to determine whether a nerve injury commonly seen after a blast requires surgical treatment. If the nerve doesn't recover, it requires surgery to be replaced. If the nerve is going to recover or has the capacity to recover, it's better off if it were to recover on its own, without surgery.
So the purpose of this experiment is to differentiate between nerves that have the capacity to heal from nerves that don't. The ultimate goal would be to use this technology to help guide surgical decision-making in the early phases of wound debridements.
One of the biggest benefits of being in the Military is being put into a leadership position relatively early in your career. I've had the opportunity to do that, both on the clinical side and on the research side. And this is not something that would happen in the civilian setting until much later in one's career.
doctor:
Jonathan Forsberg, M.D., Ph.D.
Redirecting your request...
Topic Categories
Military Medicine 101
Applying + What to Expect
Education + Training
Careers + Lifestyle