description:
Jonathan's day is split among three institutions: Walter Reed National Military Medical Center (NMMC), the National Institutes of Health (NIH) and the Navy Medical Research Center (NMRC). He starts his morning at Walter Reed, where he meets with a patient who was recently transferred to the hospital from the NIH after having a hemipelvectomy.
image: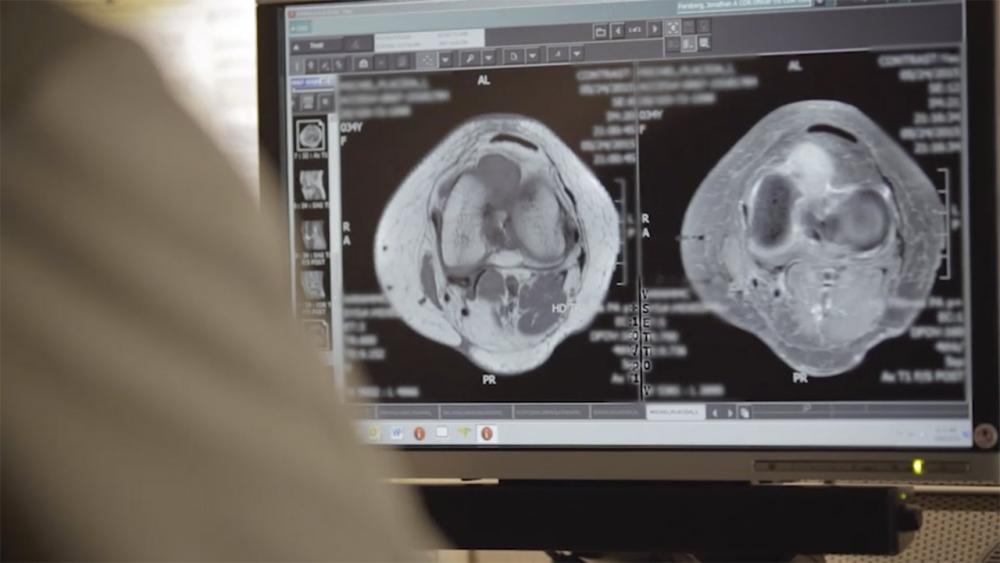 transcript:
FORSBERG: Usually my day is split between three institutions — Walter Reed, the National Institutes of Health and also the research lab — Naval Medical Research Center.
I'm an orthopedic oncologist in the Navy, and I specialize in the treatment of tumors of the bones and soft tissues. So this is a typical morning at Walter Reed. I come in, check emails, review the X-rays of any cases that came in over the weekend.
DJ has neurofibromatosis, which predisposes him to certain types of nerve tumors. And he had a very large nerve tumor in his thigh and groin, and it became cancerous and turned into a sarcoma. So unfortunately, the only way we could safely remove the tumor was to do what's called a hemipelvectomy, which is a very high amputation of the lower extremity. So he's transferred here to Walter Reed to do his rehabilitation. DJ's actually the first patient to be transferred from the NIH to Walter Reed for rehab, under a Secretary of Defense special designation. So we're very excited about that process.
Well, we'll check in on you every day, and although you're on the rehab service, my team will check in on you. And if you need anything from me, just let them know and they'll contact me, no matter where I am. Thanks for letting us come in to talk to him.
FEMALE: Thank you.
FORSBERG: I love to take care of cancer patients. I mean, it's not for everybody, but I truly feel like I can identify with them, and helping improve their quality of life is very important.
doctor:
Jonathan Forsberg, M.D., Ph.D.
Redirecting your request...
Topic Categories
Military Medicine 101
Applying + What to Expect
Education + Training
Careers + Lifestyle