description:
At the end of the day, Sara is released from her duties and takes the opportunity to enjoy some downtime at a barbecue on post.
image: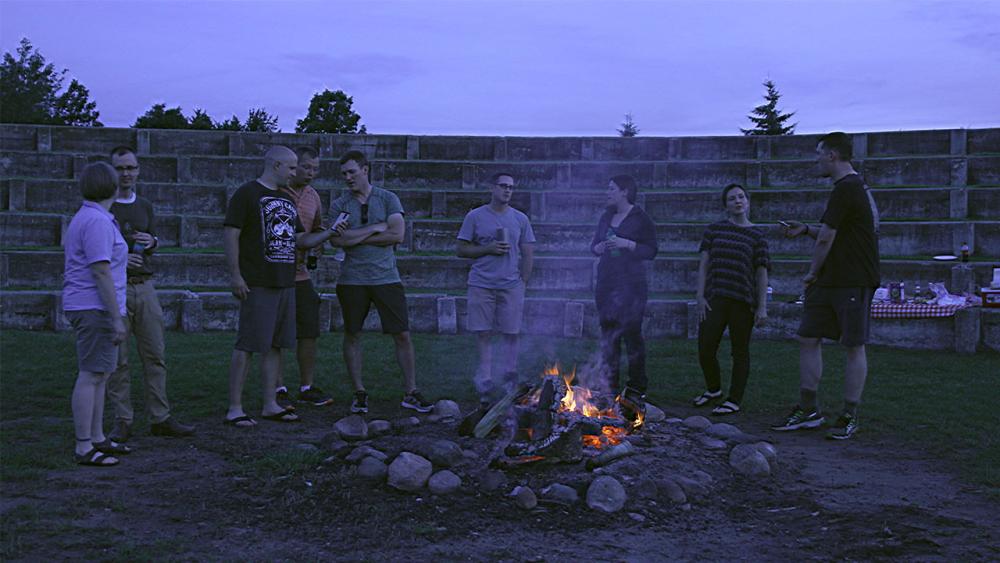 transcript:
BURDASH:  During the drill date, if we have little moments to kind of sneak away and go get a soda, or go get a coffee and catch up a little bit, we'll do that. We'll sometimes have time to grill out, watch sporting events if it's a big sporting event weekend. We have holiday parties, we have usually one in the winter, and then a family day kind of in the summer where we'll get groups together, and we get to hang out with everybody's significant others. A whole bunch of these guys came to my wedding. We've got a whole crew here we can introduce them to. We've got Captain Ellenbos here, he's one of our nurse corps. So, he keeps us grounded and keeps us moving and efficient. We've got Lt. Samberg here, he's our -- yeah. So, he's our fitness guru, physical therapist. Tentis, who works at urgent care down at Mayo Clinic, fancy. Then our good major, fearless leader. He's a PA at the emergency room at the Mayo Clinic so good, smart guy.  Quality gentleman. And then our wonderful dentist we told you about. Hey! 
FEMALE:  Hey.
BURDASH: Captain Miller, Captain Hunter, they try to keep me from losing all my teeth. So now we're just enjoying our chance to have a little time off before finishing up our work here at drill.​
Redirecting your request...
Topic Categories
Military Medicine 101
Applying + What to Expect
Education + Training
Careers + Lifestyle